News by Stute Foods
Welcome to our News page where you will find our latest news and articles.
If you would like further information about any of the stories below please get in touch via the 'Contact Us' website page.
20 July 2017
Stute Foods welcomed 11 international Trade Officers to their offices in Central Bristol last week. The Trade officers who all work for the Department for International Trade (DIT), visited from from USA, Canada, India, Mexico, Brazil, Germany, Sweden and France, and focus their efforts on increasing the demand for British food and drink products in their respective countries.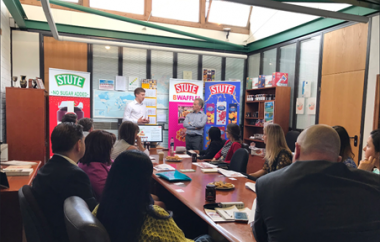 18 July 2017
Stute Foods is excited to feature in 'Sugar Free', a new receipe book hitting the shelves of major retail stores this week. Recipes using Stute's No Sugar Added jams and marmalades are included. Readers are also educated on exchanging sugary items for more guilt-free treats. Stute's Strawberry jam contains 90% less sugar than ordinary jam making a great option for those looking to make 'smart swaps'. The book includes over 100 mouth-watering sweet and savoury dishes to try that all effortly aim to reduce sugar intake.