News by Stute Foods
Welcome to our News page where you will find our latest news and articles.
If you would like further information about any of the stories below please get in touch via the 'Contact Us' website page.
18 May 2016
Stute has released a smaller case size for its 1.5 litre juice and juice drink range to offer more flexibility for its customers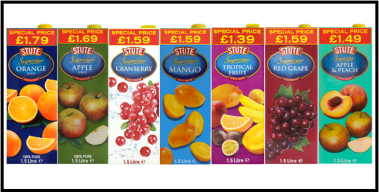 4 May 2016
Stute No Sugar Added Preserves are the perfect accompaniment to the afternoon tea. Containing no added sugar, they are ideal for those looking to reduce the amount of sugar in their diet. Visit our products page to see all 8 varieties!