BWaffle / BWaffle Packet / BWaffle / Display Box / 15g Sauce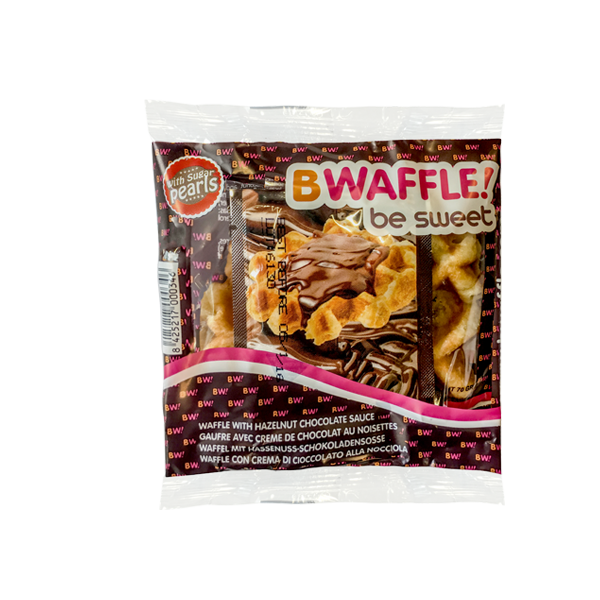 BWaffle
Stute's BWaffle are individually wrapped sugar coated ambient waffles that are great for on the go snacking.
Each waffle comes with its own 15g sachet of hazelnut chocolate sauce allowing the option to drizzle it over or have the waffle plain.
BWaffle is produced with double the shelf life of most other ambient waffles on the market with a minimum of 4 months on delivery.
4 ways to enjoy.
How will you eat yours?
Straight from the packet?
Warm?
With hazelnut chocolate sauce?
Without sauce?
Waffle: Wheat Flour, sugars, vegetable margarine (fats(coconut and palm) and vegetable oil (sunflower)), water, pasteurized egg, salt, sorbitol, yeast, milk powder, emulsifier: soya lecithin, CMC, mono and diglycerides of fatty acids; Preservative: calcium propionate, Aroma: vanillin.

Hazelnut Chocolate Sauce: Sugars, vegetable oil (sunflower and palm), cocoa powder (8%), whey powder, hazelnuts, emulsifier: soya lecithin, Aromas: hazelnuts and vanillin, Antioxidants: tocopherol and ascorbyl palmitate.
Nutritional Information per 100g

Energy: 1862KJ / 445 Kcal
Fat: 23g
of which saturates: 7g
Carbohydrates: 54g
of which sugars: 36g
Fibre: 3g
Protein: 6g
Salt: 291mg
Eye catching display box contains 14 individually wrapped waffles.

55g waffle with 15g sachet of hazelnut chocolate sauce.