BWaffle at Speciality & Fine Food Fair 2016!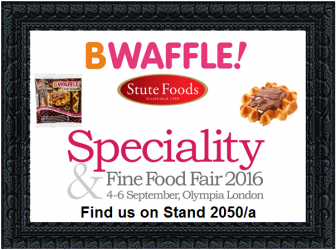 Stute Foods is pleased to announce its attendance at this year's Speciality & Fine Food Fair at Olympia, London.
Between 4th-6th September Stute will be further promoting BWaffle, the latest addition to the product range that was launched in the UK last month.
Stute's BWaffle are individually wrapped sugar coated ambient waffles that are great for on-the-go snacking.
Each waffle comes with its own 15g sachet of hazelnut chocolate sauce allowing the option to drizzle it over or have the waffle plain.
BWaffle is produced with double the shelf life of most other ambient waffles on the market with a minimum of 4 months on delivery.
If you're interested in the product or want to say hello you can find us on stand 2050/a.
Please contact us for more information.
[email protected]
+44 (0)117 9238823