Diabetes Guide 2016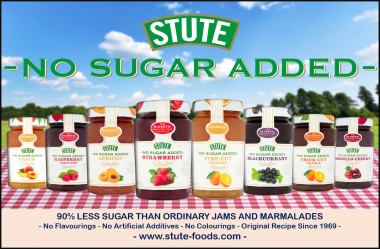 Stute Foods have partnered up with The Diabetes Guide 2016.
The Diabetes Guide will be available as a free supplement in the Mail On Sunday on 13th November 2016 in certain regions of the country. You will also be able to view it online by visiting www.diabetesguide.co.uk.
The guide provides key information on the disease, eating the correct foods and how to diagnose diabetes at an early stage.
Stute's range of No Sugar Added Preserves have 90% less sugar than ordinary jams and contain no flavourings, no artificial additives and no colourings, making them ideal for those wanting a balanced low sugar diet
For more information please do not hesitate to contact us.