New No Sugar Added Hazelnut Chocolate Spread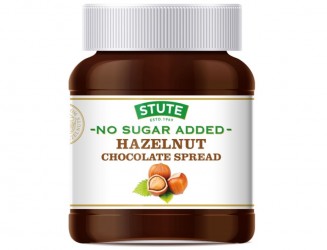 Stute Foods is delighted to announce the launch of a new Hazelnut Chocolate Spread containing no added sugar.
Stute's No Sugar Added Hazelnut Chocolate Spread is a new addition to the No Sugar Added portfolio and replaces the existing offering - Stute 'Choc-O-Nut' Hazelnut Spread with Cocoa.
Laurence Hybs, Managing Director explains, "Demand both in the UK and internationally for our range of No Sugar Added Jams and Marmalades has grown hugely over the last few years. We wanted build on this success by expanding the range and also capture a slice of the growing sweet spreads market. We have developed Stute No Sugar Added Hazelnut Chocolate Spread to offer consumers a healthier alternative to the market leader whilst ensuring superior taste and quality."
This launch follows the successful introduction of Stute's low sugar mixed fruit juice drinks range earlier this year.
More information is available on request – [email protected].