Stute Foods Celebrates 50th Anniversary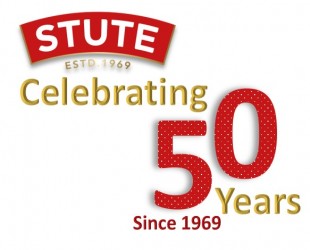 2019 marks Stute Foods Ltd's 50th year of trading, a proud milestone for the company.
The Bristol firm, which was set up by Dennis Hybs in 1969 will mark its 50th anniversary in July this year.
Today, the company supplies its customers with more than 30 different products which includes jam, juice and spreads. Distribution across the UK is through a wide number of retail channels and in more recent years Stute has developed extensive export sales. Stute's products can now be found in almost 50 countries around the world.
The company has remained 100% family owned since its inception and Laurence Hybs, son of Dennis, has been Managing Director for the past 22 years.
Stute Foods is driving ahead with many exciting projects which includes the launch of new lines later in 2019.
Laurence said: "I am incredibly proud that Stute Foods has been trading for 50 years. The continued success of the business can be attributed to our great quality products and fantastic team which enables us to provide first-class service to our customers.
We have an exciting future ahead of us as we diversify our product range and develop new ways to remain competitive in the ever-changing food and drink landscape".
If you would like any further information you can contact us at [email protected].