Stute Foods Welcomes International Trade Officers to Bristol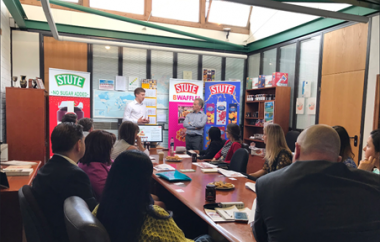 Stute Foods welcomed 11 international Trade Officers to their offices in Central Bristol last week.
The Trade officers who all work for the Department for International Trade (DIT), visited from from USA, Canada, India, Mexico, Brazil, Germany, Sweden and France, and focus their efforts on increasing the demand for British food and drink products in their respective countries. They were in the South West to learn more about food and drink in the region as part of the DIT's 1st birthday celebrations (Formally UKTI).
Stute Foods spent the afternoon presenting information about their export journey over the last decade and its export strategy for the next 5 years. This was an invaluable opportunity for Stute to network with the Trade Officers who will continue to assist with country specific information moving forward.
Stute's export business now represents a large proportion of their total sales and they are continually looking to build further relationships with International partners and distributors.
For more information please contact us - [email protected]