Stute Foods features in the 2017 Diabetes Guide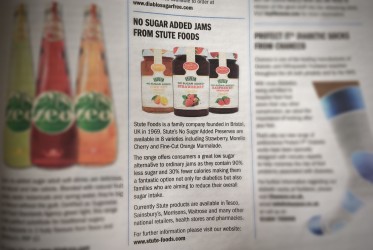 Stute Foods has featured in the Diabetes Guide which is available in both hard print and online. The guide provides practical advice on diabetes with step by step measures on how to prevent and manage the desease.
Diabetes is claimed to be the fastest growing health threat today. Around 11.9 million adults are at increased risk of Type 2 diabetes but don't even know it. The guide has been released to coincide with Diabetes week which runs from 11th-17th June.
Sugarwise, a charity that has been paving the way for the food and drink industry with their mission to increase the availability of low sugar options comments on the wide variety of sweeteners that are available as sugar substitutes.
The full guide can be found by visiting: www.diabetesguide.co.uk.
Please do not hesitate to contact us for further information on any of our products - [email protected]