Stute Foods launches juice range in new four Price-Marked Pack case format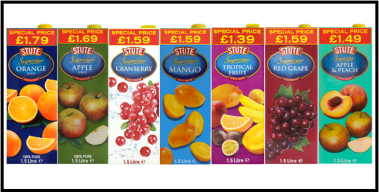 Stute Foods, a leading supplier of high quality food and drink products worldwide, has unveiled a new Price-Marked Pack (PMP) case format for its range of 1.5-litre juice range.
Previously only available in cases of 8 cartons, Stute has brought out the new size of 4 to allow smaller retailers and independent outlets to better cater to the specific demands of shoppers. With other juice manufacturers still offering juice in cases of 8, Laurence Hybs, Managing Director, said "We hope this new size will be popular with shop owners looking to save space and more accurately offer the ranges that are most popular with customers."

The range of juices, available in seven varieties comprising Cranberry, Orange, Apple, Mango, Tropical, Apple & Peach and Red Grape, are presented in packs of four-packs 1.5 litres cartons and feature a £ price flash highlighting to consumers the price of each flavour available.
For more information please get in touch - [email protected].