Stute Foods wins International Business of the Month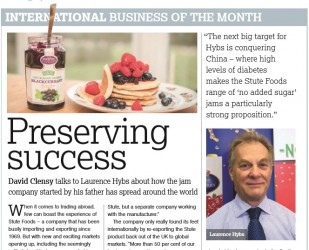 Stute Foods is proud to have been named Insider Media's International Business of the Month for January.
Stute Foods has increased its export business by almost 300% over the last 5 years with its products now found in over 50 countries around the world. Stute Foods will be continuing to target new markets in 2018 by focussing on the Chinese market and further developing sales in South East Asia.
Insider is the UK's most successful regional B2B media company. Today, Insider's five regional B2B magazines are read every year by over 200,000 subscribers; we host circa 140 market-leading events including award dinners in all regions outside London. Insider also has the UK's only nation-wide network of regional news emails with 140,000 subscribers and a web site with over 250,000 unique users.
Insider is a forward looking, fast growing business thanks to its superb team of experienced and highly committed employees who are supported by an impressive portfolio of blue chip clients.
For more information about Stute's export business, please get in touch - [email protected]