Stute Recipes feature in new Sugar Free recipe book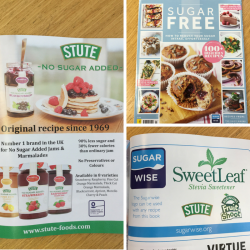 Stute Foods is excited to feature in 'Sugar Free', a new receipe book hitting the shelves of major retail stores this week.
Recipes using Stute's No Sugar Added jams and marmalades are included with the following proving to be most popular:
Fruit and Nut Breakfast Muffins
Sticky Glazed Gammon
Duck Breast with a Rich Blackcurrant Jam Sauce
Readers are also educated on exchanging sugary items for more guilt-free treats. Stute's Strawberry jam contains 90% less sugar than ordinary jam making a great option for those looking to make 'smart swaps'.
The book includes over 100 Sugarwise certified dishes to try that all effortly aim to reduce sugar intake. Sugar Free also contains feature and recipes from The Hairy Bikers, Naia Sawalha and Phil Vickery.
You'll find Sugar Free is on sale from 14/07/17 and available from selected Tesco, Sainsbury's and WHSmith stores.
For more information please contact us via [email protected]