Stute announces the launch of BWaffle!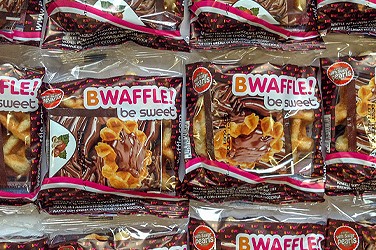 Available immediately from Stute Foods, BWaffle provides consumers with an individually wrapped 55g waffle with a 15g sachet of hazlenut chocolate spread. It will offer consumers a delicious and convenient snack, ready to heat or eat straight out of the packet wherever and whenever needed.
Designed to appeal to a wide range of outlets from convenience, wholesale and independent stores, coffee shops and cafes to travel specialists such as petrol or rail stations where consumers are looking to pick up a delicious snack on the go. It is also well suited for vending operators.
BWaffle is available in a single display box, featuring 14 waffles as well as a counter and floor stand offering retailers a wide range of merchandising options. The product is halal and kosher approved and has a shelf life of four months on delivery.