The renaissance of the afternoon tea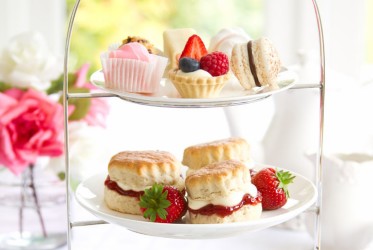 The revival of afternoon tea is without a doubt the movement of the moment. From the ideal mother's day treat, to the quaint hen-do activity, afternoon tea has something for everyone. The activity first originated in 1840 by the 7th Duchess of Bedford as a way to ward off "that sinking feeling between luncheon and supper", but quickly took off to become a fashionable pastime. Whilst the older generations have stoically preserved this culinary pursuit, millennials have recently discovered the allure of the typically English tradition, creating a surge in popularity.
Traditionally speaking, your typical spread includes a layer of sandwiches, cakes and scones with the modern twists often diverting down the biscuit, petits fours or pastries routes. However, your classic components remain a constant and absolute: jam, cream, and of course, tea. Though there's something to suit both savoury lovers and those with a sweet tooth, are outlets remembering to cater for those with niche diets or specific dietary conditions? With shocking statistics from Diabetes UK revealing that there are now over four million people with the condition in the UK – an increase of 65 percent over the past decade – it's time for venues and caterers to accommodate these dietary restrictions so that everyone can enjoy this favoured activity.
Stute Foods' No Sugar Added range of jams and marmalades could provide the answer that ensures no one is left out. Stute Foods Limited has been selling a selection of food and drink in the UK since 1969, including juices, preserves and spreads. Its range of No Sugar Added preserves comes in eight flavours: Fine and Thick Cut Orange Marmalade, Strawberry, Seedless Raspberry, Apricot, Blackcurrant, Morello Cherry and Peach are perfect accompaniments to the afternoon tea. Containing no added sugar, they are ideal for those who are not able to have a high sugar intake. With each jar containing 30 percent fewer calories than normal jam, it doesn't just appeal to diabetics but also those looking to achieve a healthier lifestyle by reducing the amount of sugar in their diet.
Laurence Hybs, Managing Director of Stute Foods, said: "We hope our No Added Sugar range of jams open up more options for those who are following a low sugar diet but don't want to compromise on taste. It is important to cater for a range of clients, particularly as more people are avoiding certain ingredients – whether for health reasons or simply as a lifestyle choice."
By stocking Stute preserves, shops and sellers can give all of their afternoon tea-goers, even those on restricted sugar diets, a quality experience to enjoy and by doing so, help keep the renaissance of this national treasure alive.