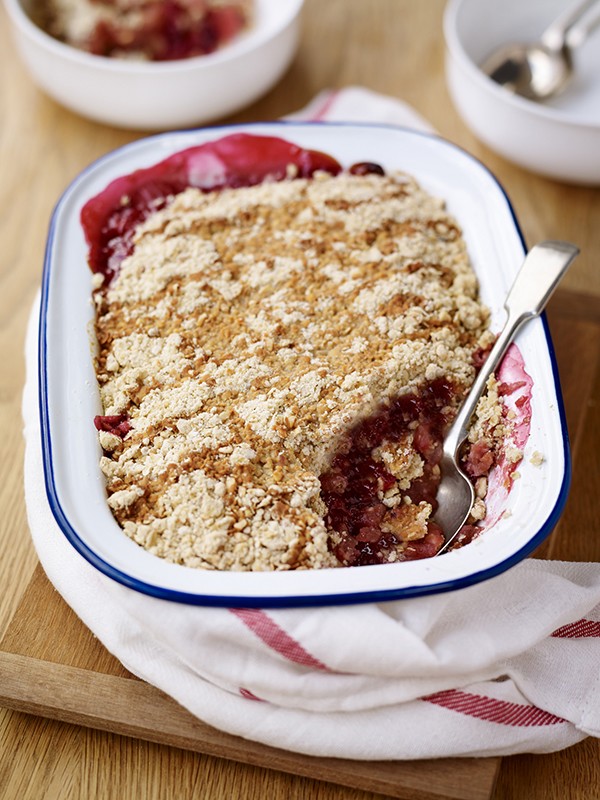 Apple and Raspberry Crumble
Take advantage of the natural sweetness of the fruit in the apples
and raspberries as well as the no added sugar jam and enjoy a
healthier version of this all-time favourite. Rather than add lots of
sugar to your crumble top with a drizzle of honey for a layer of
deliciously golden chewy nuggets.

Serves: 8 - Preparation time: 10 mins - Cooking time: 45 mins

You'll need:
5 bramley apples
4 tbsp Stute no added sugar raspberry seedless jam
200g raspberries
140g oats
200g plain flour
50g chopped hazelnuts
100g butter, chopped
1-2 tbsp honey

What to do:
• Peel, core and chop the apples and put them in a large saucepan
with the Stute jam and 2 tbsp of water. Cook the apples on a
low/medium heat with the lid on, stirring occasionally to make sure
they don't stick to the bottom. If the pan becomes dry add a little
more water.
• While the apples are cooking, preheat the oven to 180C/160C
fan. Combine the Oats, flour and nuts in a bowl and rub in the
butter, gently rubbing all the ingredients through your fingertips
until the butter is incorporated.
• After approximately 15 minutes when the apples are soft and
starting to breakdown, remove from the heat and gently stir
through the raspberries. Tip the apples into an oven dish and
spread the crumble evenly over the top. Gently press the crumble
down a little then drizzle with honey.
• Bake for 30mins until the honey is golden. Allow to cool a little
before serving.
Overall rating