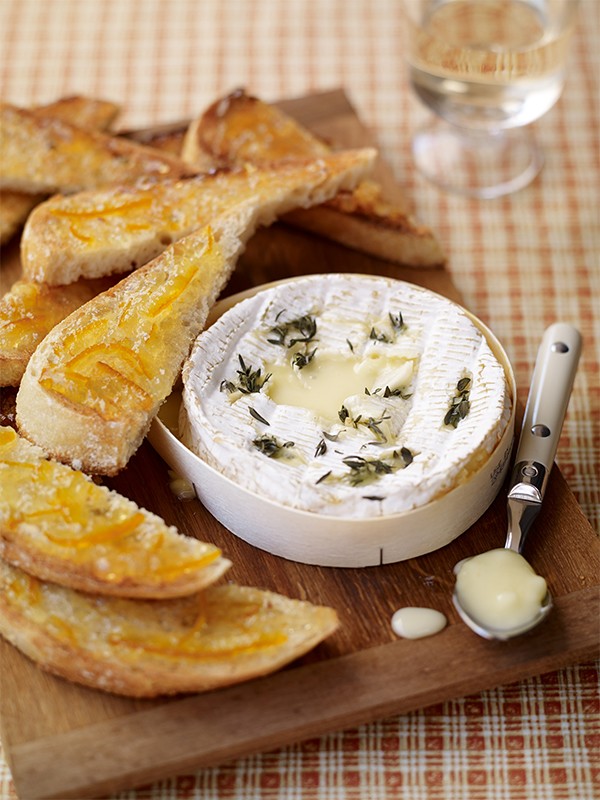 Camembert with Fine Cut Marmalade Soldiers
Bread and marmalade soldiers dunked in creamy French cheese
that's been rubbed with garlic and herbs and baked until soft and
melting, makes this a delicious treat to share with friends.

Serves: 4 -6 - Preparation time: 5 mins - Cooking time: 15 mins

You'll need:
250g good quality Camembert in a wooden box
1 clove garlic, sliced into 8-10 slivers
2 sprigs thyme
1tbsp vermouth or dry white wine
8 slices sourdough bread
3tbsp Stute No Added Sugar Fine Cut Marmalade

What to do:
• Heat the oven to 200C/180C fan. Remove any plastic wrapping
from the cheese then return to its wooden box. Put the box on a
baking tray then using a small sharp knife make 8-10 incisions in
the top of the cheese and poke in the garlic slivers and a few thyme
leaves. Carefully pour over the vermouth then replace the box lid
and bake in the oven for 15-20 minutes.
• While the cheese is cooking, toast the bread, cut into soldiers and
spread with Marmalade. To test if the cheese is done, gently press
the top to make sure its soft and runny through to the centre.
• Serve the warm cheese with marmalade soldiers to dunk in.

Cook's tip:
If the cheese box is glued rather than stapled at the join you will
need to tie some string around it when it's warming, otherwise the
glue will melt and the box will spring apart.
Overall rating