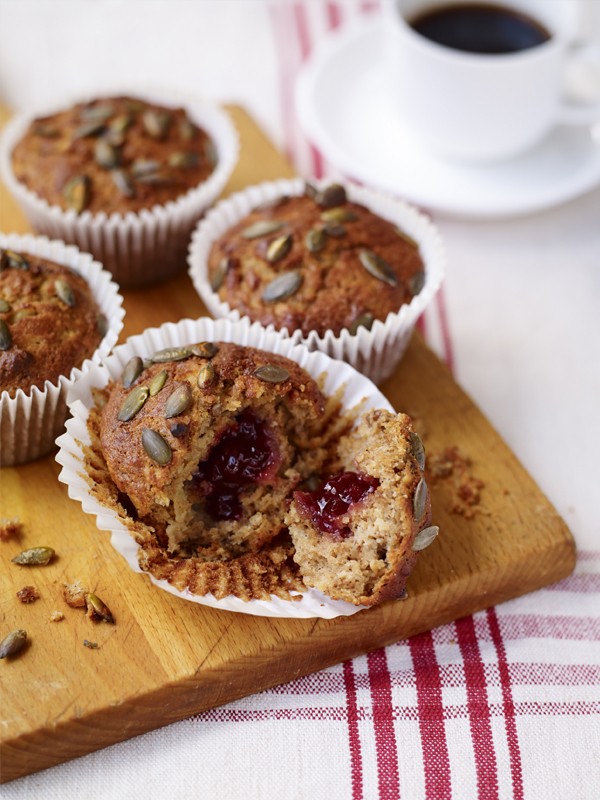 Fruit & Nut Breakfast Muffins
For a healthier start to the day made a batch of these breakfast muffins made with muscovado sugar, nuts and spice for lots of taste. Perfect for breakfast or a snack on the go.

Serves: 8 - Preparation time: 20 mins - Cooking time: 20 mins

You'll need:
100g self raising flour
1 tsp baking powder
50g unrefined muscovado sugar
40g ground almonds
1tsp mixed spice
40g chopped pecans
1 eating apple
2 eggs
50ml rapeseed oil
Zest of an orange
50ml low fat natural yogurt
8tsp Stute no sugar added raspberry seedless jam
20g pumpkin seeds

What to do:
• Preheat the oven to 220C/200C fan. Line 8 holes of a muffin tin with muffin cases. In a bowl mix together the flour, baking powder, sugar, almonds, spice and the pecans.
• In a separate bowl grate the apple, including the peel, down to the core and combine it with the beaten eggs, oil, yogurt and orange zest. Tip the wet mixture into the dry ingredients and stir until just combined but don't over mix.
• Spoon half of the mixture into the prepared muffin tins add a tsp of Jam to each muffin then top with the remaining mixture. Sprinkle the top of each muffin with pumpkin seeds then bake for 20 minutes until golden and they spring back when gently pressed on top.
Overall rating