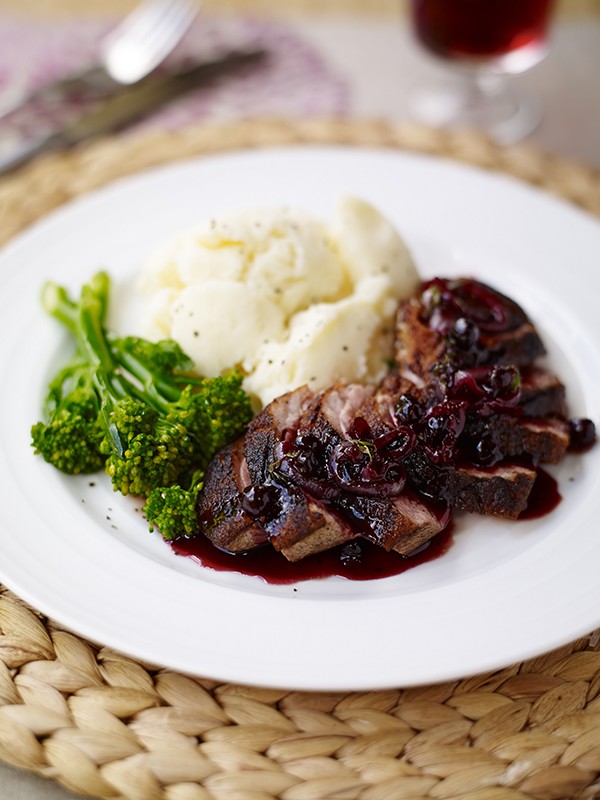 Pan Fried Duck Breast Served With a Rich Sauce of Blackcurrant Jam
Using no added sugar blackcurrant jam means less sugar and a more balanced dish.
Serve with mashed potatoes or creamed parsnips and Tenderstem broccoli for a delicious supper for two.

Serves: 2 - Preparation time: 5 mins - Cooking time: 30 mins

You'll need:
2 duck breasts
¼ tsp allspice
1 shallot, finely sliced
3tbsp red wine
2tbsp Stute no added sugar blackcurrant jam
3 sprigs of thyme
Freshly ground black pepper

What to do:
• Score the skin of the duck into diamond shapes, cutting
through the fat almost down to the meat. Season with salt and
pepper and rub with all spice.
• Put the duck, skin side down into a cold frying pan. Put it onto
a medium heat and allow it to heat up in the pan, slowly
coming to a sizzle. In 10 minutes a lot of the fat will have
rendered out and the skin crisp. Turn the duck over and cook
for a further 7 minutes. The meat will be medium, if you prefer
it cooked more keep it in the pan for and extra minute or two.
Set aside on a warm plate to rest.
• Pour off all but 2 tsp of the fat. Gently cook the shallot for 1-2
minutes then pour in the wine, stir to deglaze the pan and
simmer for a minute to let the alcohol cook off. Stir in the jam
and add the thyme leaves, a good grind of pepper and salt to
taste. Cook for 2-3 minutes until syrupy.
• Slice the duck and serve drizzled with blackcurrant sauce.
Overall rating