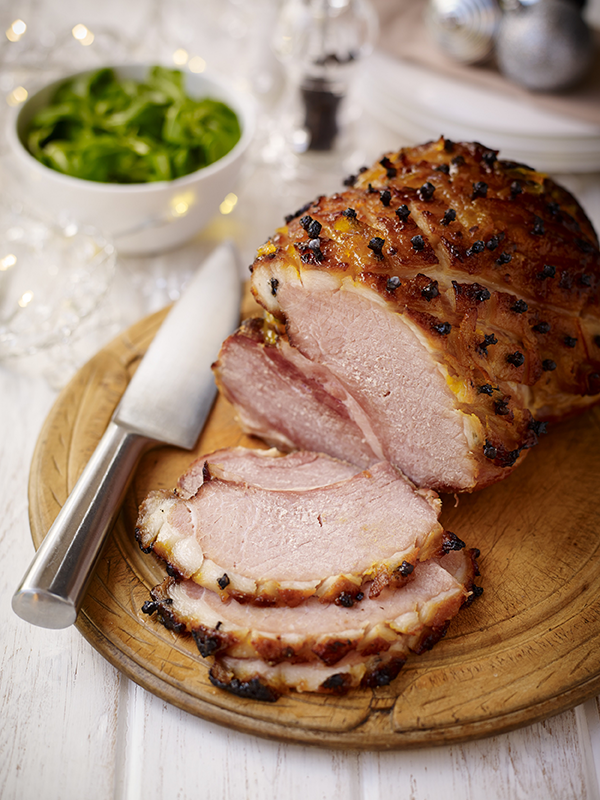 Sticky Glazed Gammon
Using Stute No Sugar Added Marmalade as the sticky glaze means you
don't have the extra sugar from ordinary jams or even treacle used in some
recipes. Stute's marmalade ensures a fantastic tasting dish that is great to feed a crowd as part of a buffet or as a main meal.

Serves: 10 - Preparation time: 5 mins - Cooking time: 3hrs

You'll need:
1 orange, sliced
3kg smoked gammon, boned and rolled
1 stick cinnamon
2 bay leaves
3tbsp Stute No Sugar Added Fine Cut Marmalade
2tbsp english mustard
handful of cloves

What to do:
Heat the oven to 160C/140C fan. Lay the orange slices in the
bottom of a roasting tin and sit the gammon, skin side up, on top.
Pour enough water in to cover the bottom of the pan and throw in
the cinnamon and bay. Make a tent of foil to cover the gammon
and seal tightly around the edges of the pan. Cook for 2 ½ hrs.
Once cooked, remove the foil and set aside until its cool enough
to handle. Mix together the marmalade and mustard. Pour off the
liquid, discard the cinnamon and bay and carefully peel off the
ham skin leaving a thick layer of fat. Score the fat into diamond
shapes down to the meat. Turn the oven up to 220C/200C fan.
Generously paint the marmalade mixture onto the ham fat then
stud each of the diamonds with a clove. Return the ham to the
oven for 30 minutes until the outside is sticky and caramelised.

Cook's tip: This Steam-roast method is more straight forward
than boiling then roasting and just as succulent.
Overall rating