News by Stute Foods
Welcome to our News page where you will find our latest news and articles.
If you would like further information about any of the stories below please get in touch via the 'Contact Us' website page.
30 September 2017
Stute Foods joined a food and drink trade mission to China in September to explore the market and meet with potential importers. The trip was organised by Department for International Trade along with their partners Santander and Milsted Langon and included visits to both Shanghai and Beijing. Stute Foods has built a very strong export business over the last 10 years and currently exports to over 50 countries.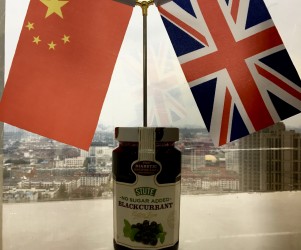 1 August 2017
Great Taste, the world's most coveted food awards, which celebrates the very best in food and drink, has announced the Great Taste stars of 2017. Out of over 12,300 products to be judged, Stute Foods of Bristol was awarded a 2-star Great Taste award, which means judges dubbed it outstanding for its No Sugar Added Fine Cut Marmalade.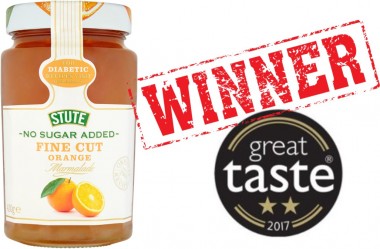 20 July 2017
Stute Foods welcomed 11 international Trade Officers to their offices in Central Bristol last week. The Trade officers who all work for the Department for International Trade (DIT), visited from from USA, Canada, India, Mexico, Brazil, Germany, Sweden and France, and focus their efforts on increasing the demand for British food and drink products in their respective countries.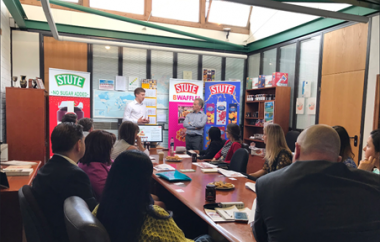 18 July 2017
Stute Foods is excited to feature in 'Sugar Free', a new receipe book hitting the shelves of major retail stores this week. Recipes using Stute's No Sugar Added jams and marmalades are included. Readers are also educated on exchanging sugary items for more guilt-free treats. Stute's Strawberry jam contains 90% less sugar than ordinary jam making a great option for those looking to make 'smart swaps'. The book includes over 100 mouth-watering sweet and savoury dishes to try that all effortly aim to reduce sugar intake.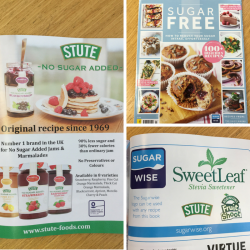 12 June 2017
Stute Foods has featured in the Diabetes Guide which is available in both hard print and online. The guide provides practical advice on diabetes with step by step measures on how to prevent and manage the desease. Diabetes is claimed to be the fastest growing health threat today. Around 11.9 million adults are at increased risk of Type 2 diabetes but don't even know it. The guide has been released to coincide with Diabetes week which runs from 11th-17th June.